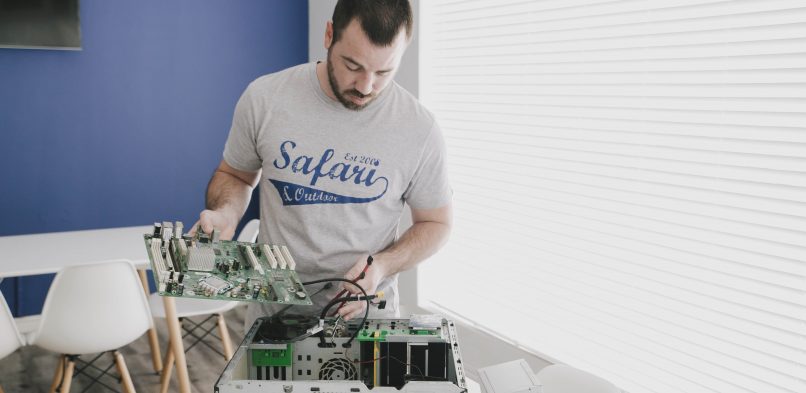 Get Internationally Accredited & Recognized
PC Engineering Courses
Overall questions to ask yourself about PC Engineering Courses.
Moreover why pay someone to repair a pc or setup a network? – Alternately create your own network or troubleshoot computers for clients.
What I learn relevant and of value? – Definitely Yes. Furthermore it's current hardware and networking tech. In turn you learn from experienced Pc Technicians/lecturers.
Can I get a job as a lan administrator or technician after? – Definitely yes. We suggest to study towards your Comptia certifications (Internationally accredited and recognized).
Why PC Engineering?
Why learn about Hardware, networking and troubleshooting?
PC engineers are experts in the intricacies of PC hardware and software. They must configure routers and wireless hubs and troubleshoot when problems arise. Some PC engineers travel from location to location to provide technical support to corporate and domestic clients. Thus at School of IT the pc engineering course is designed for you to learn about a computer practically by building a practical portfolio of relevant industry projects. At School of it we offer:
An IT Fundamentals course (for IT fundamentals),
An A+ course (for Hardware fundamentals)
An N+ course (for Networking terminologies and wifi, routers etc).
A Linux course.
A Security+ course (Protecting your network and computer).
A Cloud+ course (Cloud essentials).
A Pentest+ course (Penetration testing – Cybersecurity).
A CySA+ course (Cybersecurity and hacking).
When is it Offered?
Learn Pc Engineering anytime, anywhere!
Overall learn Pc Engineering anytime and anywhere. We have 3 training options and we have award-winning IT courses. In turn identify and implement client side and integration technologies. Thus learn how to create and manage your own network typologies.
Part-Time
Fast forward your career in the IT industry with a part-time networking and hardware courses at School of IT. All in all the Part-time pc tech courses that allow working professionals to transition into a new skill set while working. In turn at School of IT we are agile and can customize a pc tech course to the individual. Start anytime and choose your hours!
Full Time
Are you ready to start a career in IT? In turn learn about networking and pc hardware as a full time student at School of IT. Thus beginning your career as a IT Technician. Start anytime and manage your own contact hours with your mentor!
High School
In addition prepare for the future by learn about computers while you're still in high school. Have the option to get internationally accredited and recognized before you even finish school!
Corporate
All in all upskill yourself or your company by learning about pc's while you're working. Thus no matter where you are, you can upskill yourself and get internationally accredited and recognized in under 6 months!
Pc Engineering Objectives
Course Objectives: PC Engineering
By the end of the pc engineering course students will have usable knowledge of the following:

All in all Assemble components based on customer requirements.
Understand the basics of networking and security.
Moreover Properly and safely diagnose, resolve and document common hardware and software issues.
in Addition Apply troubleshooting skills.
Thus Provide appropriate support.
Furthermore Understand the basics of virtualization, desktop imaging, and deployment.
Audience
Overview of PC Engineering Courses:
In this short course, students will install, upgrade, repair, configure, optimize, troubleshoot, and perform preventative maintenance on basic personal computer hardware and operating systems.
Audience
The target audience is anyone with basic computer user skills who is interested in obtaining a job as an IT professional. Moreover a PC technician. In addition, this course will help prepare students to achieve a CompTIA A+ training Certification.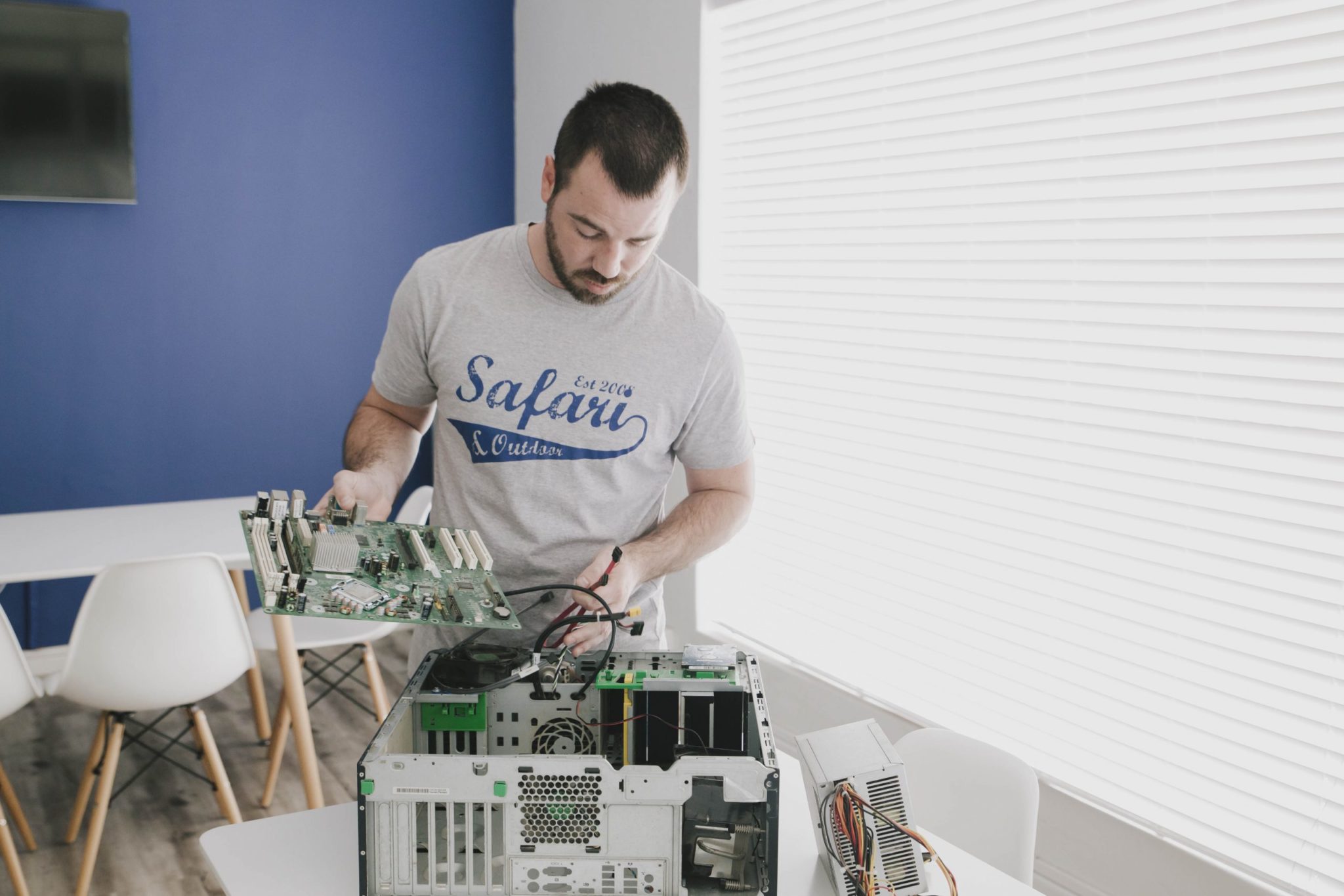 *Classes run on a full-time and part time basis – with a One-on-One Expert Lecturer, start date: anytime!
Become a Techinical master
Become a technical mastermind that enjoys the world of code, hardware and networking. Moreover do you the understanding of complicated computer programmes? If so, then ensure a valuable and prosperous future with our certificate in PC Engineering at School of IT.
Pc Engineers prospects
PC Engineers are well adversed in assembling, configuring and understanding the hardware (aka the body) and software (the brain) of the pc. In turn pc engineers are responsible for managing the IT networks. In turn setting up switches, routers and other devices. Pc engineers troubleshoot a malfunction, installing PC security systems and providing technical support. For this reason, they need excellent knowledge of the PC system, good communication skills and excellent customer service.
Role of Pc Engineers
Consequently the role of PC engineers has become extremely important in this age of technology (digital age). In turn this is because without the skills set, no employee who requires a computer to work would be able to accomplish their daily tasks. Thus our certificate in PC Engineering from School of IT offers a broad knowledge of information and communication technology principles, and fundamental knowledge of digital electronics to provide you with valuable tools for your proposed career.
Career Prospects
Job Opportunities
The career prospects for IT graduates are excellent and high in demand. Computers is everywhere: on all platforms and devices and in all countries around the world!
Network Specialist
IT Manager
IT Technician
Lan Administrator
IT Engineer
IT Support
Alternative Courses
⚠ Write your international exams in the comfort of your own home!
ⓘ 10 Reasons to choose School of IT
1. Internationally award-winning courses: Best Coding Bootcamp Winner Switchup 2020.

2. Get internationally accredited and recognized in under 6 months - by writing your Microsoft, Oracle, Comptia exams.

3. Courses are available anytime. This means you can start when you want to.

4. We fit into your schedule - this means once you register, your personal mentor contacts you within 2 working days and arranges times and dates that fit into your schedule (minimum session is 2 hours).

5. You get assigned your own personal mentor - he only teaches you at that time.

6. We are practical: You build practical examples directly with your personal mentor and on your own. As programming or any IT course be practical. thus have a workable portfolio for the job market!

7. You don't lose your hours like conventional training institutions. This means you will always have your hours and can cancel a lesson or postpone it,

8. We assist you in getting an industry job.

9. We are Microsoft certified professionals, Adobe certified experts and recognized by employers in the IT industry.

10. The only training provider to provide 3 training options, (*Our Venues, 1 on 1 Online, *We come to you)

* Western cape only, 1 on 1 internationally award-winning online training for other provinces and country's.
💳 Payment plan
All 30 hour courses and less are full payment before commencement. Over 30 hours: you can pay per 20 hour intervals.
🏅 Internationals
All international exams are additional in price: +-R800 per exam. We assist you booking online and choosing an approved centre closest to you to write! PS: you can write worldwide!