Get Internationally Accredited & Recognized
UX Courses.
User Experience Training
Overall the user experience (UX) is what a user of a particular product experiences when using that product. A UX designer's job is thus to create a product that provides the best possible user experience.
All in all the User Experience Design course helps you to understand how users interact with online content so that you can design flexible solutions for their needs. Furthermore learn key UX research and design techniques, and learn how to work with UI, stakeholders and various mediums.
Why UX Courses?
Why learn about User Experience?
All in all User Experience refers to the feeling users experience when using a product, application, system, or service. Thus it is a broad term that can cover anything from how well the user can navigate the product, how easy it is to use, how relevant the content displayed is etc.
UX Experience Illustration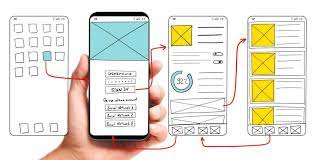 When is the UX Courses Offered?
Part-Time
Thus fast forward your career in the Design industry with a part-time UX course at School of IT. Part-time courses allow working professionals to transition into a new skill set while working. In turn at School of IT we are agile and customize a course to the individual. Flexibility.
Full Time
Ready to start a career in Design? In turn user experience trends and techniques as a full time student at School of IT. Thus beginning your career in UX or Design.
High School
Prepare for the future by learning ux trends and design while you're still in high school.
Corporate
Upskill yourself or your company by enrolling for the UX Design course, whilst you're working.

User Experience Courses Objectives
UX Course objectives
By the end of the UX Design Course. In turn students will have usable knowledge of the following:
Overall Understand why designing with the user in mind is so critical
Craft user-friendly websites that delight, rather than frustrate
Integrate UX into everything you do online and create digital experiences that make customers react positively to your brand
Design interactions that will lead to higher affinity and conversions
Furthermore Understand aspects of human computer interaction and how functionality needs to adapt across devices and channels to ensure optimal user satisfaction
Career Prospects for UX Designers
User Experience Job Opportunities
In turn the career prospects for UX graduates are excellent and high in demand. Computers is everywhere: on all platforms and devices and in all countries around the world!
UX Developer.
UX Specialist.
All in all a Web Design.
Graphic Designer.
All in all become a UX Designer.
Alternative Courses